A Professional Fencing Contractor is Essential
So you need to find the right fencing contractor because you're thinking about installing a new fence? Great choice! Whether it's a boundary fence for your property, a fancy feature fence to spruce up your home's exterior, or a top-notch pool fence that meets all the local council's regulations, you're going to need a professional to make sure the job's done right. From getting quotes and contracts to overseeing the installation process, there's quite a bit to consider, especially if you're aiming for a fence that will be your trusty sidekick for many years to come.
Here are our Top 5 tips for choosing the perfect fencing contractor
Tip #1 – Get Multiple Quotes and Look Beyond the Price Tag
When it comes to finding the right fencing contractor, don't rush. Do your research, gather written quotes, and when you're reviewing them, consider factors like the materials they plan to use, their proposed timeline, and, of course, the smiles on their past customers' faces. Referrals can be like finding a golden ticket because a good reputation is hard-earned!
Here are some questions to ask your potential fencing contractor before requesting a quote:
What fencing materials do you recommend and why?
Will you remove old fencing materials if it's a replacement project?
How often do you finish within the agreed timeline and budget?
Is your company fully insured?
Are any permits required for this fence installation?
If there are obstructions like trees or rocks, will the removal cost be included in the quote?
What's the procedure if accidental damage occurs during the job?
Does the quote cover gates as well?
Tip #2 – Seal the Deal with a Signed Contract and Written Guarantees
Once you've chosen your new fencing contractor, you'll want to make sure there's a signed contract in place. This contract should spell out what's getting done, the total price, the when's and how's, and the cost of all the building materials. Both parties should get a copy, and your contractor should also hand over any warranty info, including promises about the product and the fence's construction.
Tip #3 – Check for Qualifications and Punctuality
When picking your fencing contractor, go for a company that's got a knack for the kind of work you need. We're talking about professionals who know their way around a variety of fences, whether you're after something that's easy on the eyes or heavy-duty and practical. From picket fences to chain wire wonders, they should be your go-to pals.
And remember, when you're choosing your fencing contractor, make sure they can keep up with your schedule. We all need some flexibility for bad weather and holidays, but having a rough idea of when the job will be wrapped up keeps everyone happy. This is especially important if you're in a bit of a hurry, whether it's for safety reasons or to boost your property's curb appeal when it hits the market.
Tip #4 – Expect Nothing Less Than Great Service, Transparency, and Professionalism
Choose a fencing contractor that maintains clear communication with you, as you'll be collaborating with the same company and often the same employees for a significant duration. They should provide clear explanations of the process, potential issues, and costs. Regular updates on their progress should also be part of their service.
Trust is important; you should feel at ease with the contractor on your property and trust that they will inform you of any issues or delays. They should take responsibility for these matters, be transparent about the problems, and offer suitable solutions to ensure a smooth process.
Tip#5 – Your Contractor Should Be Insured and Fully Licensed in the UK
When you're choosing a fencing contractor in the UK, two things should be at the top of your checklist: licensing and insurance. The UK fencing industry operates under strict regulations, so it's vital that your chosen contractor has the right licenses to work legally, demonstrating their professionalism and competence.
Equally important is insurance, such as public liability coverage, which is standard in the UK's trades and construction sectors. This insurance safeguards both the contractor and you in case of property damage or personal injury claims resulting from their work. Many UK businesses also opt for plant and equipment insurance to protect against equipment loss, theft, or damage, ensuring a smooth project process. By confirming your contractor's licensing and insurance, you can move ahead with your fencing project feeling confident and secure.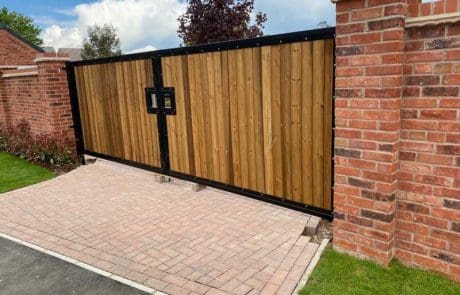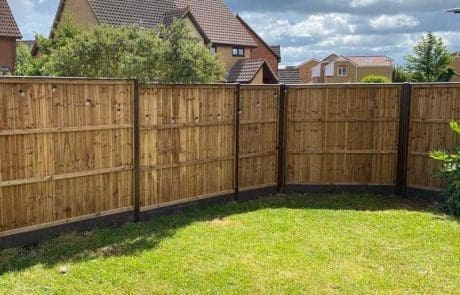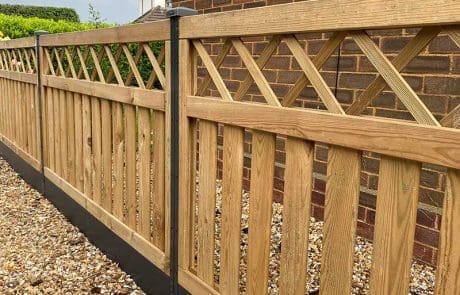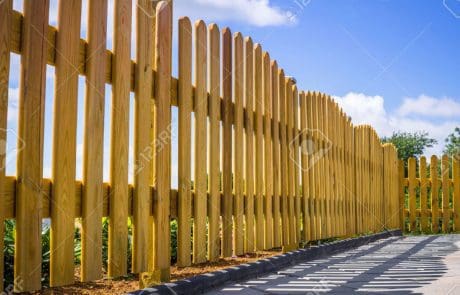 TRUSTED PARTNER for all your fencing needs.
EXTENSIVE EXPERIENCE in the industry
SKILLED TEAM excels in turning your fencing ideas into stunning realities, whether for residential or commercial projects.
QUALITY CRAFTSMANSHIP is prioritised using premium materials to ensure your fence not only meets but exceeds your expectations.
YOUR SATISFACTION IS OUR TOP PRIORITY and we work closely with you to tailor solutions that align with your unique requirements.
FULLY LICENSED AND INSURED so you can have peace of mind throughout the project.
OUR COMMITMENT to timely completion, transparent communication, and competitive pricing makes us the ideal choice to transform your fencing dreams into a beautiful, functional reality.